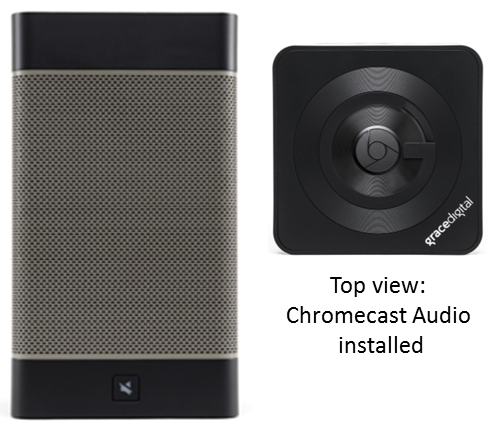 SAN DIEGO, Ca. – June 10, 2016
–
Grace DigitalInc.,
the leading manufacturer of award winning WiFi, Bluetooth, portable and home audio systems is announcing the
world's first
speaker made exclusively for Google's Chromecast Audio device which streams music through WiFi anywhere in your home.
The market for multi-room WiFi wireless audio has been heating up in recent years as many small and large companies compete in the growing market. Instead of coming up with yet another competing solution, Grace Digital has physically integrated Chromecast Audio device (sold separately) directly into our speaker. There is no additional app or system to learn.
With the CastDock X2 speaker, users simply place a Chromecast Audio device on top of the Grace CastDock, connect the integrated power and digital audio cables, and instantly have a world-class Chromecast enabled speaker that rivals any competitor's proprietary system.
"Today we have created a speaker dock for Chromecast Audio just like companies created iPod docks for iPods over 15 years ago, just Dock it and Rock it," commented Greg Fadul, Grace Digital's CEO. "The beauty of our new CastDock with Chromecast Audio is your phone's battery doesn't drain, and you can cast your music from any room in your house to one or multiple speakers simultaneously."
Below are a few of the features incorporated into Grace's CastDock X2 and Chromecast Audio (sold separately):
Listen to over 30 million songs from over 100+ cast-enabled music apps like Pandora, Google Play Music, Spotify, and iHeartRadio
Enjoy higher quality sound
Play music everywhere with multi-room feature
Play music without interruptions
Mirror music from a laptop or Android phone
Grace Digital's CastDock X2 specifications include:
50 watt digital amplifier with electronic crossover
Frequency response: 60Hz – 20KHz
Wave Maxxaudio DSP tuned to match custom speaker drivers
Digital optical connection supports high-resolution audio, up to 24-bit, 192-KHz
Switch for selecting R / R+L / L (allows you to use two Chromecast Audio devices and two CastDock's for stereo sound or to place in separate rooms)
Auto play / auto off when music is streamed
Integrated mute button
Rear mount screw option
Grace Digital's CastDock X2 speaker for Chromecast Audio is available for $149.99 but if you act fast Bestbuy.com has a $99.99 father's day special. For more information on Grace Digital's upcoming products follow them on Facebook and Twitter. To learn more about Chromecast Audio visit chromecast.com/audio.
###
About Grace Digital Audio:
Based in San Diego, California, Grace Digital Audio provides a family of audio products with the highest levels of quality, support and service. From wireless internet radios to indoor/outdoor wireless speakers, Grace provides audio solutions for every situation. Grace's innovative iPhone & iPod Touch application allows users to control their entire Grace audio system with one convenient control. Grace sells its products through major retailers, ecommerce sites, dealers and distributors throughout North America. To learn more about Grace Digital products please visit them at www.gracedigital.com.