RAHWAY, New Jersey – July 24, 2018 – Cavalier Audio, designer and manufacturers of crafted, voice-controlled speaker solutions changing the way listeners experience audio products, today announces the Maverick Portable Bluetooth and Wi-Fi speaker with Amazon Alexa voice control. Maverick brings refined craftsmanship and immersive sound to a listener's home with authentic materials, impeccable style, and the latest in modern audio technology.
Check out the Cavalier video here.
"The adventure to create the most genuine audio performance is what motivates us every day," said Albert Ashkenazi, Founder of Cavalier. "Our relentless commitment to authenticity, aesthetics and craftsmanship is a standard we hold close to our hearts with the goal of bringing timeless design to the world of modern technology."
TECHNOLOGY WITH SOUL
Dreamed up by an experienced team of musicians and engineers, the Maverick speaker brings world-class acoustics to life with a 20W stereo speaker system featuring two active drivers and dual passive radiators that create a true room-filling experience. The speaker is fully portable thanks to both Bluetooth and Wi-Fi capabilities, allowing listeners to enjoy music no matter where they are. Maverick lets users go completely hands-free with built-in Amazon Alexa voice control technology that supports Wi-Fi streaming with platforms such as Pandora, Spotify, iHeartRadio and Amazon Prime Music services.
"The Cavalier Maverick speaker system strikes a creative balance between elegant design and high-quality, immersive sound," said Pete Thompson, VP of the Alexa Voice Service at Amazon. "With Alexa built-in, customers can enjoy a more natural, convenient listening experience, as well as features like flash briefing and smart home controls, and access to tens of thousands of Alexa Skills."
Listeners can turn their homes into a sound stage with multi-room audio support by linking several Mavericks together for a sound that feels like they are live in studio. Listeners can set up a Cavalier speaker in additional rooms or in a right/left configuration in a single room for an immersive stereo sound experience.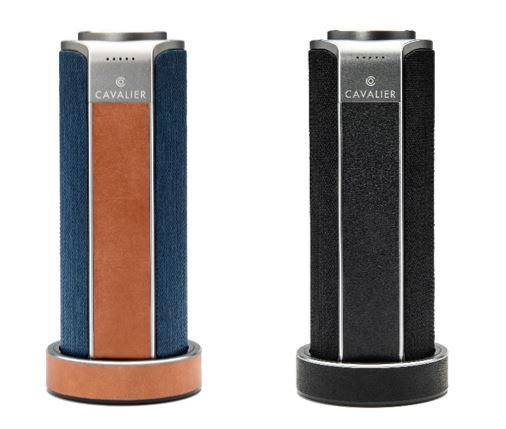 REFINED CRAFTSMANSHIP
Crafted with precise attention to detail, Maverick looks as good as it sounds. Cavalier's designers hand-selected its premium materials using only the finest and most durable luxury resources to deliver the perfect balance of aesthetics, strength, style and performance. Genuine wood with natural oil finish, custom-knit fabrics, perfectly distressed leathers and machined edged metals deliver a timeless design that's both rustic and refined.
Maverick comes equipped with a premium leather charging base to give the speaker a true home setting with a design that complements a mix of interiors. Cavalier's precise attention to detail is reflected in Maverick's included, custom-stitched charging cable with USB-C connector and canvas carrying case so users can take the speaker with them in style. Its integrated programmable smart button allows listeners to customize touch controls, including playlist shortcuts for streaming platforms like Spotify and iHeartRadio, for those moments when it is just easier to press a button.
EASY SET UP
Easily set up the single or multi-room portable Bluetooth and Wi-Fi system in just a few steps through the Cavalier app. Over-the-air software updates through the app ensures the Maverick gets better all the time, so listeners can enjoy the ultimate wireless music experience.
AVAILABILITY
Cavalier's Maverick Portable Bluetooth and Wi-Fi speaker with Amazon Alexa voice control is available now in Black or Indigo for $299 at CavalierAudio.com. The Cavalier app is also available now for free in both the Apple Store and Google Play Store.
SPECS + FEATURES
Built-in Amazon Alexa with Far-Field Voice Activation 
20W Stereo Speaker system with 2 active drivers paired with 2 passive radiators
Far-field microphones give users the ability to take calls without stopping the music and killing the vibe
Built-in rechargeable battery with up to 9 hours of playtime
Wi-Fi for Alexa support and Streaming with Voice Control for TuneIn, Spotify, iHeartRadio, Amazon Music, Amazon Music Unlimited, Pandora, SiriusXM, and Audible
Bluetooth 4.0 Wireless Audio Streaming 
Speakerphone with Built-in Echo Noise Cancellation 
Spotify Connect Integration allows direct control of Music playback via Spotify App
Cavalier Multi-Room Audio Support
Cavalier Setup and Control App (for iOS and Android) 
Programmable Smart Button changes default music controls to include playlist shortcuts for Spotify and iHeartRadio
Premium leather charging base for a true home setting with included custom stitched USB-C charging cable
Includes a canvas carrying case for on-the-road use and protection in style
For more information about Cavalier Audio and its products, please visitwww.cavalieraudio.com.